Introduction
Five Finger Typist is a typing tutor for people who want to
learn to type with one hand. It teaches the accepted keyboarding technique for one-handed touch typing on the standard (QWERTY) keyboard.
Learn a life-long skill which can be used on any computer. No need for a specialised one-handed keyboard which has to be transported around with the user.

Five Finger Typist v 2.2 for Windows has been released. In Version 2.2 an enhancement for users with low vision has been added - a very large font option with a choice of 2 very large screen fonts of 36 and 48 point. See the Press Release announcing version 2.2 for information about the new features.
Five Finger Typist has a set of structured typing lessons which first teach the home position and then progressively introduce new keys and revise keys already learnt.
Five Finger Typist is extremely easy to use. It's not necessary to master complex concepts to use the program.

Suitable for child or adult



Either the right, or left, hand can be chosen easily



Opens up new communication skills - email, letters,
notetaking, computer games and applications



Touch typing skills assist students in all levels of learning



Touch typing skills assist adults in communication and
employment



An on-screen animated hand graphic shows the
correct hand movement as keys are typed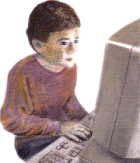 Lessons are graded, starting with
simple exercises



A self-paced typing program




System Requirements: